PROMOTE
Promote your brand
A great online presence is key to building your image as well as attracting promising new talent. We can help you by providing an online platform to promote your business and expand your network. In addition to online business marketing, you can use our multimedia platform to reach quality talent.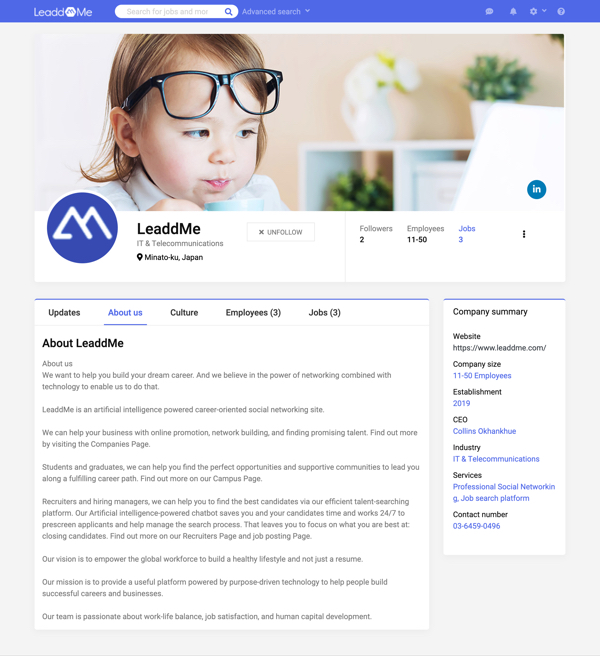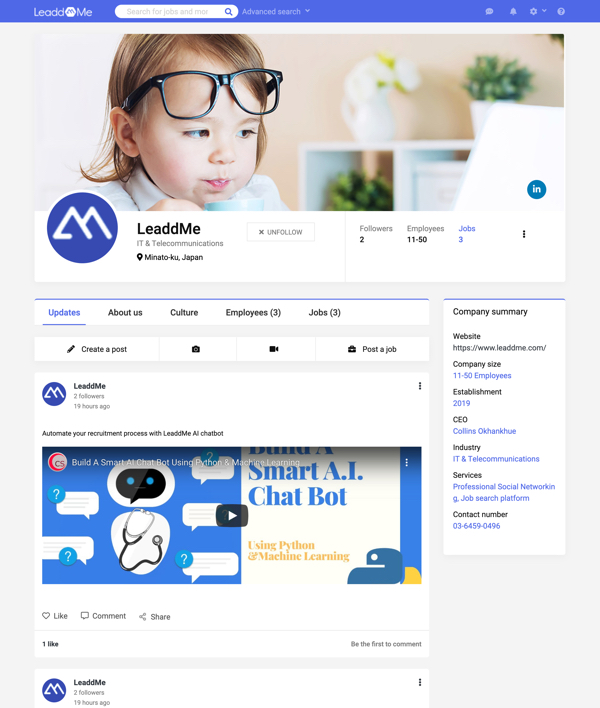 UPDATE
Post updates on your company page
Share your company news and industry thought pieces on your company page.
You can also engage with your audience by asking them to weigh in on hot topics. Posts will appear on your company page and in your followers' news feeds. LeaddMe works seamlessly with your existing social media accounts by allowing you to share across multiple platforms with one click.
CULTURE
Promote your company culture
Flaunt your company's unique attributes and culture, engage with professionals and help potential new recruits find out about you and visualize their career path in your company.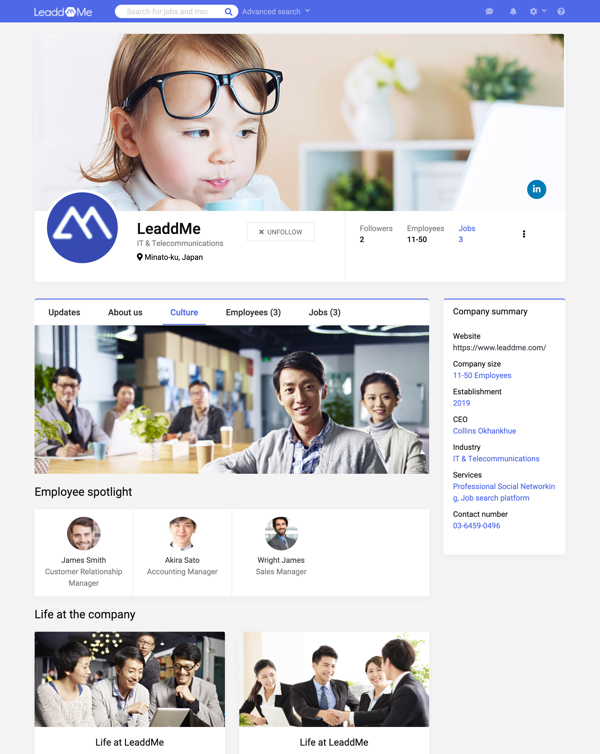 JOBS
Attract top and motivated talent
Post your jobs on LeaddMe and reach 100,000+ passive candidates instantly. Your jobs will be visible in all search engines like Google, Yahoo, Bing etc. Non-members regularly visit our website for new opportunities.
Become a popular employer
Create a company page and invite your network to follow your company. Engage your followers by sharing company news, industry thought pieces, and any job opportunities you have. Posts will appear on your company page and in your followers' news feeds. We measure Popular Employer ratings by the number of followers.
Create your company page for free
Enterprise
(Client posting more than 10 jobs in a year)
- Our API allows companies to automatically post jobs to LeadMe from their company career page.
- The API saves you from signing into LeaddMe and manually posting jobs each time you have a new vacancy.
- Flexible payment options - There is no credit card required for our Enterprise client to post jobs on LeaddMe.
- Personalized service - We offer personalized services to our Enterprise clients.